Overview of Form 1094-C
Form 1094-C is the transmittal form that accompanies Form 1095-C when filing with the IRS each year. Together, Forms 1094-C and 1095-C are used to provide information to the IRS regarding health insurance coverage offered to your full-time employees and that status of individual employee's enrollment. Form 1094-C is only sent to the IRS, not to employees.
Form 1094-C 2019 Tax Year Deadlines

Due to recipient
January 31st, 2020

Paper file 1094-C with the IRS
March 2nd, 2020

E-file 1094-C with the IRS
March 31st, 2020
Note: IRS has now extended the recipient copy deadline to March 4, 2019 from the original due date of January 31.
Information Required to Complete Form 1094-C
Employee information such as name, social security number, contact information, etc.
Number of the Form 1095-C transmitted with Form 1094-C
ALE member information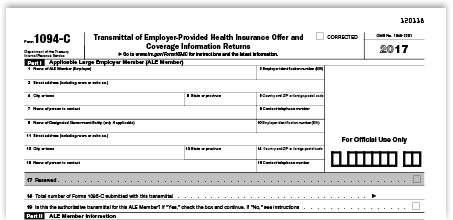 Are there penalties for not filing Form 1094-C?
Employers that do not submit Form 1094-C to the IRS may be subject to a penalty of up to $250 per missing form, with a maximum penalty of $3 million per calendar year. Waivers are available when failure to report is due to a reasonable cause. Limited relief is also available in 2016 for incorrect or incomplete information reported.
Success

Starts with TaxBandits
The Smart Business Owners Choice
Access our resource center for more
information about tax relief due to
COVID-19. Visit Now