How to File Form 945 electronically with TaxBandits?
What are the Required Information to File Form 945 Online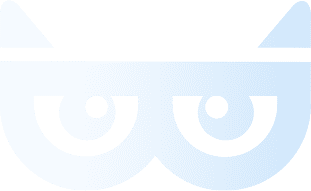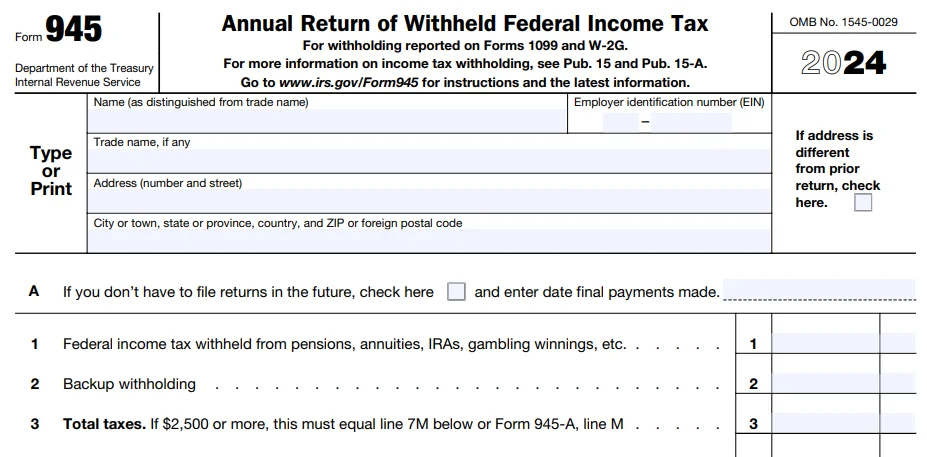 1. Employer Details: Name, EIN, and Address
2. Taxes Withheld Details

Amount of Federal Income Tax Withheld
Backup withholding details
Federal Income Tax withheld
Monthly Tax Liability
Deposit Details
Signing Authority Information
More than 100,000+ Businesses trust TaxBandits for these Amazing Features

Schedule A (Form 945)
TaxBandits support Schedule A (Form 945) to report your federal tax liability for the Form 945 and transmit it directly to the IRS.

94x Online Signature PIN
The IRS requires you to sign your form with an Online Signature PIN when filing your Form 945. Simply apply a FREE Online Signature PIN with TaxBandits.

Form 8453-EMP
If you don't have an Online Signature PIN, don't worry! You can always use Form 8453-EMP to e-sign your Form 945 through TaxBandits.

Prior-Year Tax Filing
TaxBandits support Form 945 filing for both the current and previous tax periods. You can file for both tax periods without any additional pricing.
Success Starts with
TaxBandits
The Smart Choice of every 1099 Filers

I'm quite impressed, especially in comparison with other sites from the IRS list I reviewed as well. Well done. Thank you.

Excellent Step by Step process and easy to go back and make edits....

Very easy navigation going forward and backwards. I usually have trouble online with confusing instructions. Yours is very easy.
Frequently Asked Questions
What is IRS Tax Form 945?
IRS Form 945, Annual Return of Withheld Federal Income Tax, is used to report tax withheld under backup withholding requirements from all non-employees, independent contractors, or freelancers. Information you must report on Form 945 includes all federal income tax withheld from all individuals subject to backup withholding, total backup withholding, total deposits, and balance due or overpayment.
Ready to file your Form 945? Get started with TaxBandits and file Form 945 easily. Start Filing Now
---
When is Form 945 Due Date for 2022 Tax Year?
The due date to File Form 945 for the tax year 2022 is January 31, 2023.

If you made deposits on time, in full payment of the taxes for the year, you may have time to file your Form 945 until February 10, 2023.
---
What are the penalties for not filing Form 945 on time?
IRS may impose penalties for the following reasons.
Filing Form 945 late
Depositing taxes late
Apart from these, IRS might also impose penalties for failure to file information returns such as 1099-MISC/1099-R/
W-2G or failing to send statements to the recipients.
In case you have received a penalty notice from the IRS, you can request an abatement of penalty by sending an explanation with a reasonable cause to the IRS. Don't attach an explanation when you e-file Form 945.
---
What is Form 945-A used for and When it must be filed?
Form 945-A, Annual Record of Federal Tax Liability, is used to report employment tax liabilities. An employer must file with the IRS to declare tax liabilities on all non-payroll payments made to employees. The Form 945-A is filed annually with Form 945, but the tax liabilities are deposit by month. Employers must file if they deposit tax liabilities semiweekly or if their liability for any one month is greater than $100,000.
---
What is Form 945-X?
The 945-X is used to make corrections for administrative errors on a previously filed 945 Form, Annual Return of Withheld Federal Income Tax. Form 945 reports federal withholding that has been reported on both W-2G and all the 1099 forms.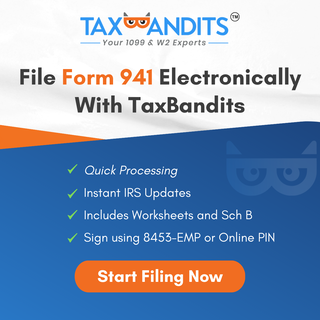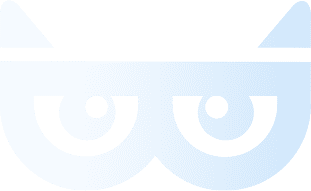 Success Starts with TaxBandits
The Smart Business Owners Choice