Streamline Your Form W-9 Online Process and 1099 Filing with TaxBandits!
Why Choose TaxBandits to Request Form W-9 Online?

TIN Matching
Filing 1099 returns with incorrect TINs can lead to hefty penalties. TaxBandits helps you avoid this by performing TIN Matching on W-9s obtained.

Seamless Data Import
TaxBandits allows you to import vendor details directly from Xero, QuickBooks, and ZohoBooks to request W-9s easily.

Real-time Notifications
Once your vendors complete and e-sign their electronic W-9 forms, TaxBandits will notify you instantly via email.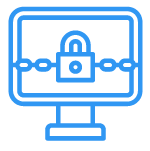 Advanced Security
TaxBandits incorporates robust security measures to protect the PII information obtained through W-9s, such as SSN, email, etc.
Ready to Request W-9?
Automate W-9 With TaxBandits API Integration
By integrating our developer-friendly API with your software or portal, you can enable
W-9 Automation and streamline the 1099 filings.
Learn more
Frequently Asked Questions about Form W-9
What is Form W-9?
Form W-9 is an IRS form used by businesses to obtain Name, Address, and Taxpayer Identification Number (TIN) from contractors or vendors.
The information obtained through W-9 forms will be used to e-file the applicable 1099 forms for reporting payments made to the respective vendors.
Check out https://www.taxbandits.com/what-is-form-w9/ to learn more about
Form W-9.
---
What information will the vendors provide on their Form W-9 Online?
Here are the details that the vendors will provide on their W-9 Forms:
Name, Business, Federal Tax Classification
Taxpayer Identification Number (TIN) - Eg: SSN, EIN
Subjection to Backup Withholding
Exemption codes for FATCA Reporting, if any
---
When should you request W-9 Online?
If you are a business that is required to make payments (generally, more than $600) to any individual or entities regarding any services rendered, such as independent contractors, freelancers, or consultants, you must request Form W-9 from the respective payees.
By obtaining a W-9 form, you can ensure that you have the necessary information to accurately file 1099 forms with the IRS at the end of the year.
---
How to Complete Form W-9 Online with TaxBandits?
Follow these simple steps to request Form W-9 from your vendor:
Step 1: Add vendor details either manually or import from Xero
Step 2: Request the vendor via email to complete Form W-9 Online
Step 3: The vendor will complete and e-sign their W-9, and you'll be notified
Step 4: TaxBandits will validate the TINs obtained through W-9s
Step 5: E-file 1099 forms for your vendors using the W-9 information and distribute copies
---
What is backup withholding?
The payments you make to the vendors will be subject to a backup withholding of 24% ifThe payments you make to the vendors will be subject to a backup withholding of 24% if,
The vendor fails to furnish TIN
The vendor fails to certify the TIN
The IRS indicates that the vendor has furnished an incorrect TIN
The IRS informs that the vendor is subject to backup withholding since they didn't report all the interest and dividends on their tax return
The vendor fails to certify that they aren't subjected to backup withholding under the above 4 conditions
---
What type of payments are subject to backup withholding?
Here are the payment types that are subject to backup withholding
Interest
Tax-exempt interest
Dividends
Broker and barter exchange transactions
Rents
Royalties
Nonemployee pay
Payments made in settlement of payment card
Third-party network transactions
Certain payments from fishing boat operators
---
What are the penalties if the vendors fail to furnish the
correct TIN?
TIN Mismatch: A penalty of $50 will be imposed on contractors or vendors if they fail to provide furnish the correct TIN unless an acceptable reason is stated.
Civil Penalty: If a vendor provides false information with respect to withholding, they will be subject to a $500 penalty.
For more details, visit irs.gov.
Success Starts with
TaxBandits!

Outstanding software! I have been collecting paper copies of W-9 previously and tried the online process for the first time. It was extremely easy and smooth.

The software is super easy to use and helped me collect the W-9s from my contractors in a short amount of time.

Loved the TIN matching service! Now, I don't have to worry about rejections due to incorrect TINs.
Request your Vendors to Complete, E-sign and Submit
Form W-9 Online