How to E-file
Form 1099-NEC Online

for 2022
with TaxBandits
Ready to E-file Form 1099-NEC with the IRS and States?
What Information is Required to E-file Form 1099 NEC Online?
1.

Payer Details: Name, TIN, and Address

2.

Recipient Details: Name, TIN, and Address

3.

Nonemployee compensation

4.

Federal income tax withheld

a.

Federal Details: Miscellaneous Incomes and Federal Tax Withheld

5.

State Filing Details: State Income, Payer State Number, and State Tax Withheld
To learn how to fill out Form 1099-NEC, follow our instructions. Begin
e-filing your Form 1099-NEC with TaxBandits today, we provide you with IRS updates throughout the filing process!
A Cloud-based 1099-NEC E-filing Solution with Amazing Features!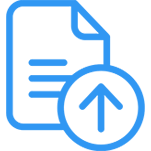 Data Integration
You can enter data manually, import it using our bulk upload templates, import it from your Xero or QuickBooks account, Fire File uploads, or with TaxBandits API.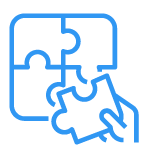 Complete Filing Solution
TaxBandits supports e-filing 1099-NEC with the IRS and State Agencies that require it.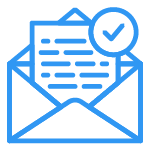 Deliver Recipient Copies
Choose to distribute your recipient copies using our postal mail and online access options.

Supporting Services
Ensure the accuracy of your 1099-NECs by requesting Form W-9, and selecting our TIN Matching services. We also support 1099 corrections.
Success

Starts with TaxBandits
The Smart Choice of every 1099 Filers
Excellent Step by Step process and easy to go back and make edits....
- Luis Collazo


Very easy navigation going forward and backwards. I usually have trouble online with confusing instructions. Yours is very easy.
- Jay Polonsky

Easy and reasonably priced. Great customer service!
- Allen Cohen

I'm quite impressed, especially in comparison with other sites from the IRS list I reviewed as well. Well done. Thank you.
- Igor Mandryka

Very easy to find my way around, most help features are very good, customer service response has been exceptional for the price point.
- Jerry Morris

Work flow makes sense, navigation is easy, customer service is excellent with prompt call backs and thoughtful support.
- Michael Morris

Frequently Asked Questions
What is IRS Form 1099-NEC?
Form 1099-NEC is used to report payments ($600 or more) made to non employees. Previously, this was reported on box no 7 of Form 1099-MISC. Now, the IRS has separated the reporting for non employee compensation by reintroducing Form 1099-NEC from the 2020 tax year.
Note: The IRS has made some changes to Form 1099-NEC for the 2021 tax year.
Who Is Required To File Form 1099-NEC?
The IRS requires the payers (Businesses or Individuals) to file Form 1099-NEC under the following conditions:
Made payments of at least $600 or more to the payee during the year.
Made payments to individuals who are not on your payroll.
Paid an individual, estate, partnership, or corporation.
Made payments for services related to your trade or business.
Want to know how to complete Form 1099-NEC? Check out this article to know how to fill out Form 1099-NEC.
When is the deadline to file Form 1099-NEC?
For the tax year 2022, the deadline for filing Form 1099-NEC is January 31, 2023. On or before the deadline, you must send Copy A to the IRS and Copy B to the independent contractor, a recipient. Then, keep a Copy C for your business records, and Copy 1 should be sent to the state
department if needed.
TaxBandits allows you to e-file Form 1099-NEC easily and securely. Get started with TaxBandits and file your returns with the IRS.
Are there any exemptions to filing Form 1099 NEC?
There are some cases in which you are exempt from filing Form 1099-NEC. You don't have to file Form 1099-NEC under the following circumstances.
You made payments to C or S corporation.
You paid for the merchandise, telegrams, telephone, freight, storage, and similar items.
You paid tax-exempt organizations.
Are there any IRS penalties for 1099-NEC?
The IRS will impose penalties for not filing the Form 1099-NEC on-time. The penalties will be imposed even if the payer failed to distribute the copies to the recipients by the deadline and for providing statements that are incomplete or inaccurate. The penalty ranges from $50/return to $270/return.
Learn more about Form 1099 NEC penalties.
Success

Starts with TaxBandits
The Smart Business Owners Choice