Forms Supported by TaxBandits for Large Enterprises
TaxBandits supports 100+ Federal, State, and Correction Forms that large enterprises must file to maintain compliance
Experience Simplified IRS E-filing with
TaxBandits
Step 1: Choose Form and Enter Data
Choose the Form and enter the required data. We support
e-filing of various forms such as 94x, 1099's, W-2, and ACA Forms.
You can either enter the data manually or save time by uploading your data in bulk using our Excel/CSV template.
TaxBandits also allows you to import 1099 data from your QuickBooks, Xero, Freshbooks & Zoho Books accounts.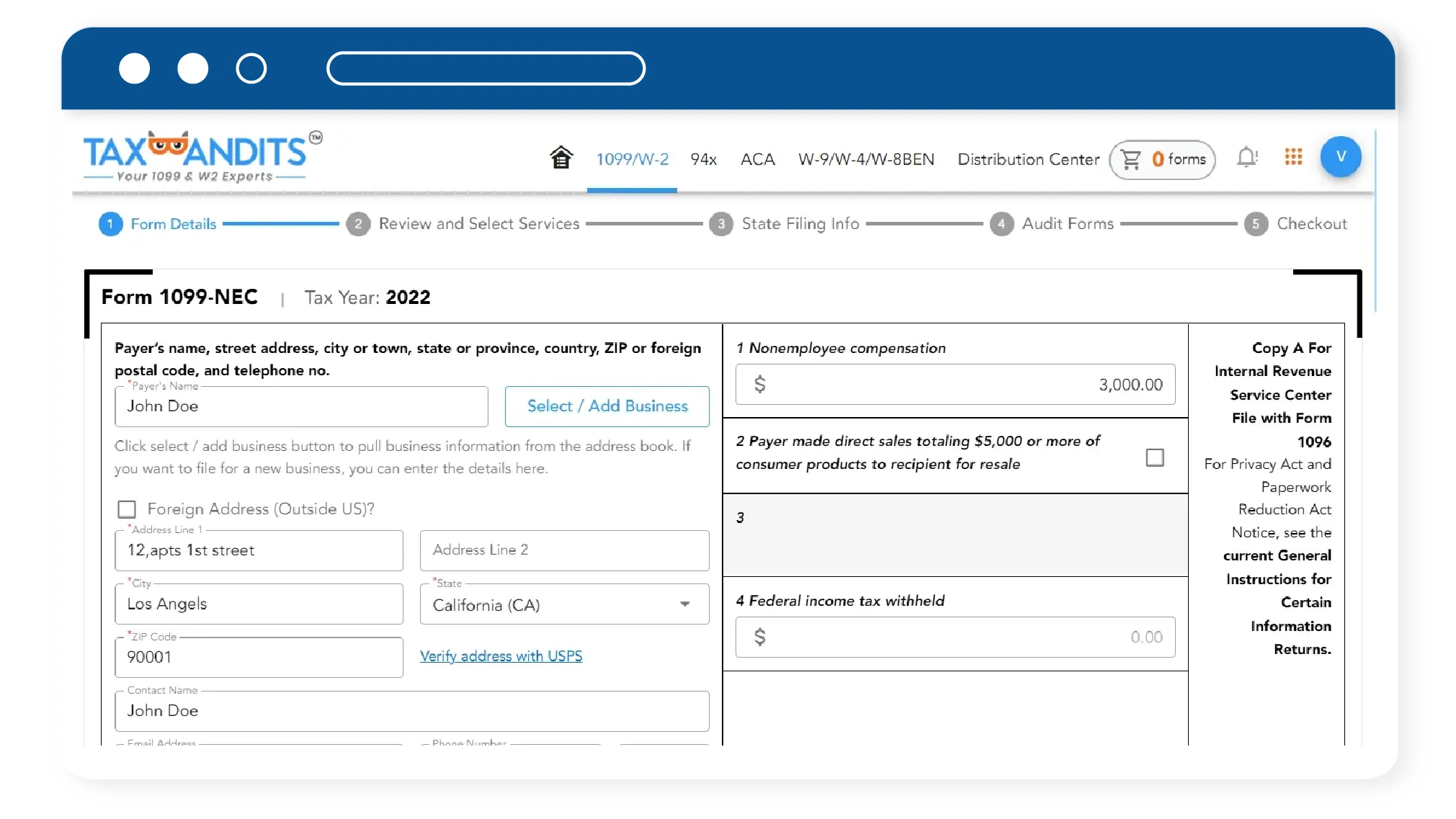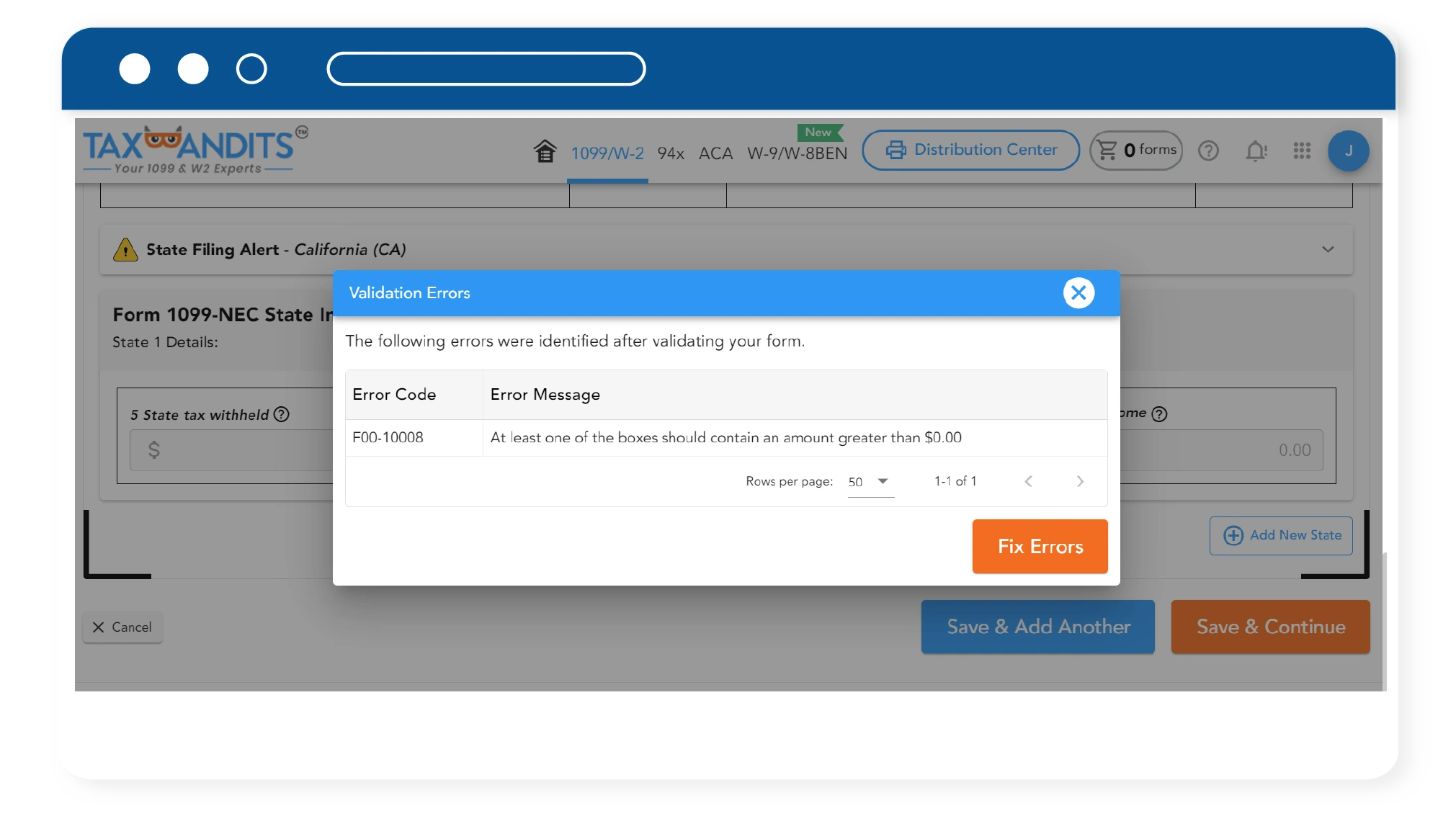 Step 2: Validate Your Return To Ensure Accuracy
TaxBandits performs internal audits on your completed forms to identify any IRS instruction errors.
We also perform IRS Business Rules Validation and USPS Validations, ensuring accuracy.
TaxBandits will validate your vendor/recipient's TIN details by cross-verifying with the IRS for accurate 1099 filing.
Step 3: Review the Form
After the validations are complete, you can review the form summary and make any necessary edits.
There is also an option to download PDF drafts of the form(s) for review.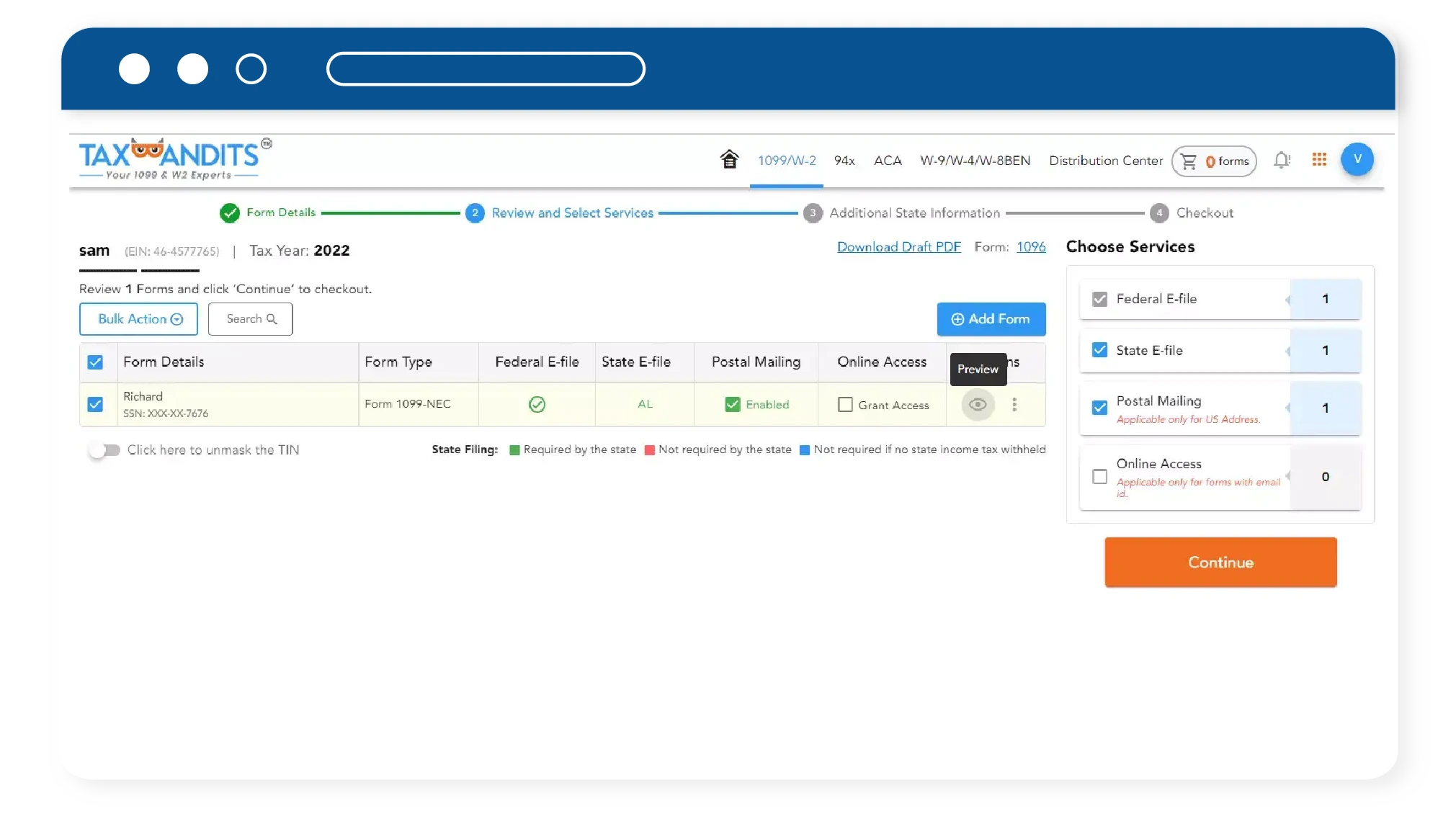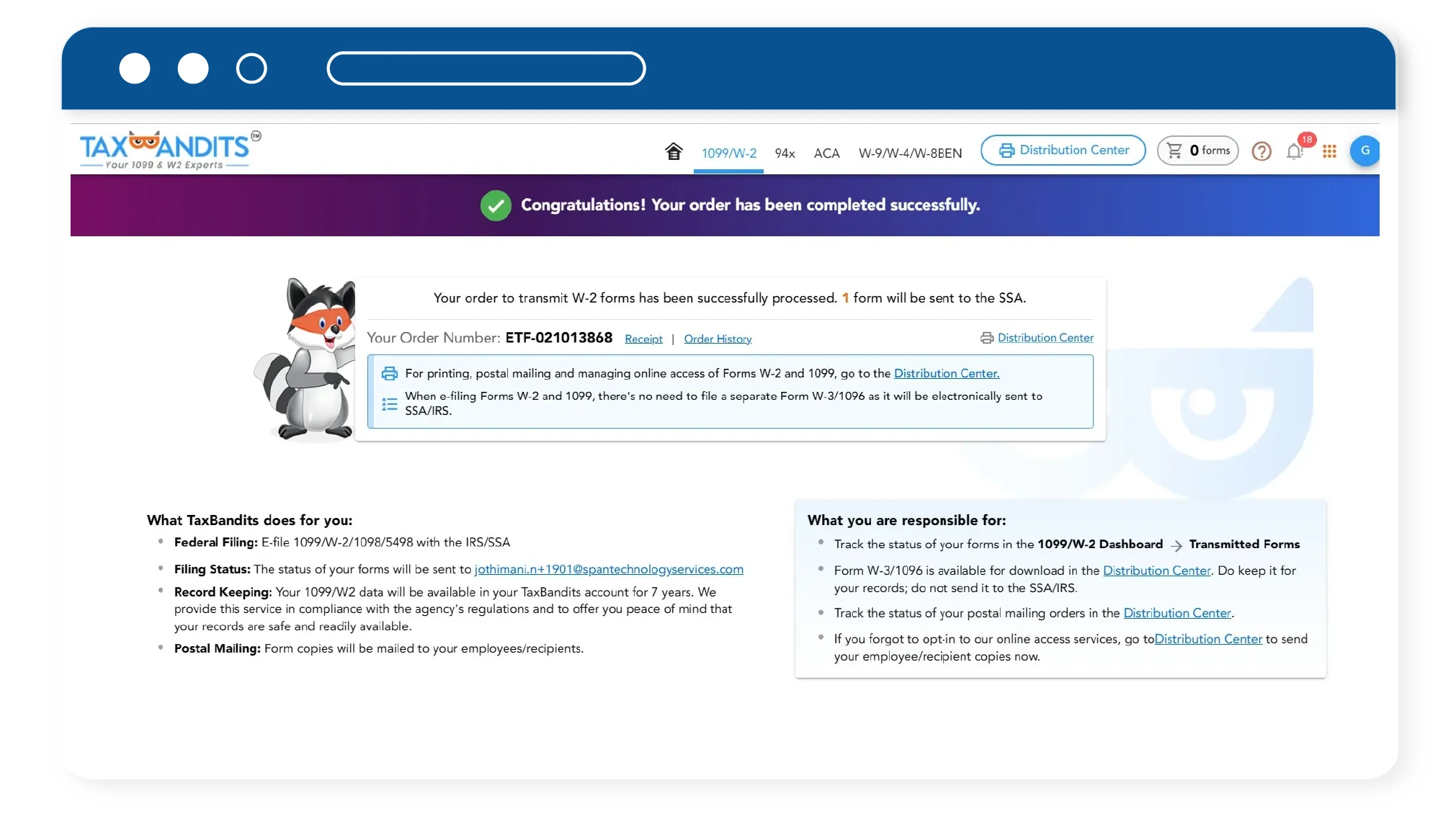 Step 4: E-file with IRS and State
Once reviewed, Transmit your returns to the IRS and the applicable state. We support both Federal and State filing.
TaxBandits allows you to download and print your tax returns and furnish copies to your recipients.
TaxBandits also offers a solution for distributing your 1099 and W-2 recipient copies. Choose from Postal Mailing and secure Online Access
Large Enterprises Simplify their Tax Filing with our Time-saving Features
We offer a range of features designed to streamline the process
of high-volume filing.
Staff Management
Invite your team to collaborate on the tax form preparation and filing process from one secure TaxBandits account.
TIN Matching
TaxBandits will validate your recipient TIN against the IRS database to ensure accurate tax filing and help you avoid penalties.
Excel/CSV File Upload
Eliminate manual data entry by uploading all the form information required for tax filing using our Excel/CSV template.
Integrations
Import data directly from QuickBooks, Xero, Zoho Books, and FreshBooks to simplify your tax filing process.
Record Keeping
Forms you file with TaxBandits will be available in your account for record-keeping for 7 years.
Live Customer Support
Our dedicated support team is available via phone, email, and live chat to assist with any questions you have during the filing process.
Data Security is our
Highest Priority

!
TaxBandits is a SOC 2 Certified, HackerProof, and COMODO Certified e-file provider, with standard security protocols in place to protect our clients and their recipients' data.
All data, including Personal Identifiable Information (PII), is encrypted and stored on a HIPAA-compliant server.
You can add an additional layer of security to your account by enabling Multi-Factor Authentication.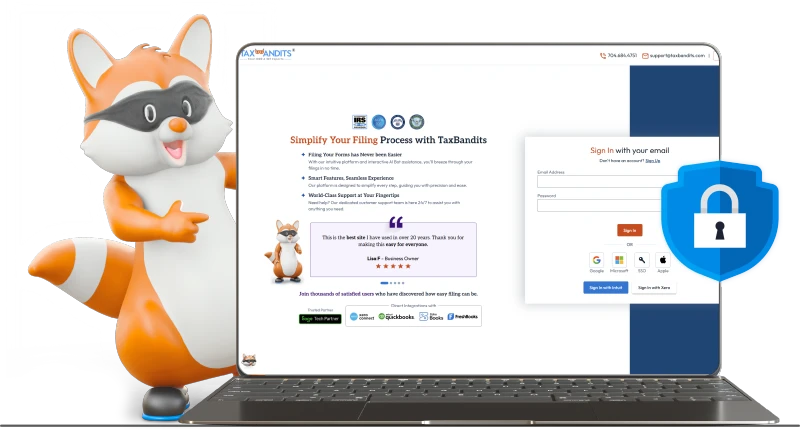 See why
our customers

choose us
year after year

TaxBandits - The Smart Business Owners Choice

I'm so excited! I used another software for years just to process 1 paycheck monthly & submit my monthly tax deposits, 4 Quarterly 941's & 1 annual 940 Form. They charged me $39/month (no physical check - just the bookkeeping for it, I personally transferred the money myself from business to personal checking each month). That service cost $468/year - quitting them using TaxBandits for those 4 Quarterly & 1 Annual 940 Reports will cost me approximately $25 annually - a SAVINGS of $443.00!! YAHOO!!! THANKS!

- Judy T, Florida





Why was I paying $165 to a CPA to type in Zero, email to me, I print it, Sign it, Copy it, load in an envelope, add an address & a stamp it, walk it to a mailbox to postmark on the last day of the month? TaxBandits preps, I e-sign, they e-file in seconds for $5 and all done with ease during the middle of the month. Holy Cow!
- Carolyn C, Texas





One of the biggest problems I faced when tax filing was that it was hard to track down all the data from my accounting software and manually file each tax return. But now, with TaxBandits' integration feature, everything has become incredibly easy. I can seamlessly import my vendor data from my accounting software, and the e-filing process takes just minutes.
- Megan Smith, Ohio





I can't praise TaxBandits' customer support team enough. Whenever I've had questions or needed assistance, they've been there every step of the way, offering prompt and expert guidance.
-Alex, Hawaii





One of the standout features of TaxBandits is its ability to accommodate a wide variety of tax forms, from W-2s and 1099s to ACA forms and more. This breadth of support has streamlined our tax filing process considerably. We no longer have to juggle multiple platforms or manually fill out forms, as TaxBandits offers a one-stop solution for all our tax form needs.
-Oliver, Alaska





As a business owner dealing with a substantial amount of tax data, their bulk upload feature has been a game-changer for me. Uploading data in bulk using their Excel/CSV template is a breeze, saving me a ton of time and effort. It's an incredibly efficient way to handle large volumes of information accurately.
-Henry, Iowa





As a CPA, the ability to assign various roles to my team members and maintain control over access levels through TaxBandits has truly transformed my work experience. This feature has made my workload significantly more manageable, allowing for efficient and organized collaboration within my team. TaxBandits' staff management capabilities have become an invaluable asset to my practice, streamlining our operations and enhancing overall productivity. Highly recommend it!
-Johnathan, California





Success Starts with
TaxBandits
The Smart Business Owners Choice