Presente electrónicamente el Formulario 499R-2 / W-2PR 2022 en línea
Cómo presentar electrónicamente el Formulario 499 R-2 / W-2PR en línea para el año fiscal 2022 con TaxBandits

Ingrese los detalles del impuesto federal retenido

Ingrese los detalles del impuesto estatal retenido

Revise su formulario 499R-2 / W-2 PR

Transmita su formulario W-2 PR a la SSA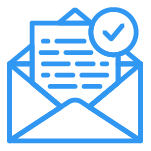 Opciones de copia para empleados (en línea / postal)
¿Está listo para presentar su formulario W-2PR? Comience con TaxBandits y presente su formulario en solo unos minutos.
¿Qué información se requiere para enviar el formulario 499 R-2 / W2 Puerto Rico en línea?
1.

Detalles del empleador: nombre, EIN, tipo de empleador, dirección y fecha de cese de operaciones

2.

Detalles del empleado: nombre, SSN, fecha de nacimiento, dirección e información de contacto

3.

Detalles federales: ingresos federales e impuestos federales retenidos

4.

Detalles de FICA: impuestos de seguro social y Medicare retenidos

5.

Detalles estatales: Ingresos estatales e impuestos estatales retenidos
Si tiene toda esta información a mano, puede comenzar a presentar electrónicamente sus formularios 499R-2 / W-2 PR con TaxBandits.
Las empresas y los profesionales de impuestos confían en las increíbles
características de TaxBandits
Success

Starts with TaxBandits
The Smart Business Owners Choice
Excelente proceso paso a paso y fácil de volver atrás y hacer ediciones....
- Luis Collazo


Navegación muy fácil hacia adelante y hacia atrás. Normalmente tengo problemas en línea con instrucciones confusas. El tuyo es muy fácil.
- Jay Polonsky

Fácil ya un precio razonable. ¡Excelente servicio al cliente!
- Allen Cohen

Estoy bastante impresionado, especialmente en comparación con otros sitios de la lista del IRS que también revisé. Bien hecho. Gracias.
- Igor Mandryka

Es muy fácil encontrar mi camino, la mayoría de las funciones de ayuda son muy buenas, la respuesta del servicio de atención al cliente ha sido excepcional para el punto de precio.
- Jerry Morris

El flujo de trabajo tiene sentido, la navegación es fácil, el servicio al cliente es excelente con devoluciones de llamadas rápidas y soporte atento.
- Michael Morris

Preguntas frecuentes
Q.

¿Qué es el formulario 499R-2 / W-2PR?
A.

La Hacienda de Puerto Rico ha publicado los Formularios 499R-2 para el año fiscal 2022. Este formulario es el equivalente en Puerto Rico del W-2. Debe ser presentado ante la Hacienda y la Administración del Seguro Social por todo empleador que haya pagado salarios con contribución sobre ingresos retenida en Puerto Rico.
Q.

¿Cuál es la fecha límite para presentar el Formulario 499R-2 / W-2PR para el año fiscal 2022?
A.

La fecha límite para presentar el Formulario W-2PR es el 31 de enero de 2023 para el año fiscal 2023 utilizando un servicio de presentación electrónica.
Puede presentar electrónicamente el Formulario W-2PR en TaxBandits antes de la fecha límite para evitar las multas.
Q.

¿Qué es el número de confirmación de presentación electrónica del formulario W-2PR?
A.

Una vez que presente su formulario electrónicamente, debe cargar el archivo en SURI. Después de cargar el archivo, se le asignará un número de confirmación. El número de confirmación es un número de seis dígitos que comienza con una letra. El Departamento no aceptará ningún Formulario 499R-2 / W-2PR impreso sin el número de confirmación (los números de confirmación escritos a mano o mecanografiados en los formularios invalidarán automáticamente los formularios).
Q.

¿Qué cambios se realizan en el Formulario W-2 PR para el año fiscal 2022?
A.

El formulario W-2 PR tiene algunos cambios en el límite base de los salarios, retenidos y en las contribuciones. Que se enumeran a continuación,
El límite de la base salarial del Seguro Social para TY 2022 se cambia a $147,000 de $142,800
El Seguro Social retenido se cambia a $9,114.00 de $ $8,853.60
Las Contribuciones a los PLANES CODA no pueden exceder los $26,000