TaxBandits and Zoho Books 1099 Integration
TaxBandits partners with Zoho Books to provide seamless 1099-NEC and 1099-MISC e-filing for businesses and tax professionals. As a trusted partner of Zoho, we offer the following exclusive features to make your 1099 filing process more effortless.
Easy & Secure E-filing
Import your data from Zoho Books and easily e-file your 1099 returns in a minute and stay compliant.
Supports State Filing
Ensure your state compliance remains intact with TaxBandits. We support 1099 state filing for all the required state agencies.
Postal Mail Recipient Copies
Choose TaxBandits' Postal Mailing Option to deliver your 1099 recipient copies through postal mail on your behalf.
E-Delivery of Recipient Copies
Distribute your recipient copies instantly. Grant your recipients to access their form through our secure online portal.
TIN Matching
TaxBandits will validate your vendors' TIN information against the IRS database, ensuring accurate 1099 filing.
Simplified W-9 Collection
Easily import vendor data from Zoho Books and collect their W9s in minutes.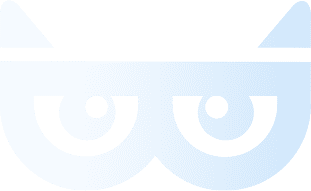 How to Import Form 1099-NEC / MISC Details From Your
Zoho Books Account?
Step 1: Choose Form 1099-NEC / MISC from the
TaxBandits Dashboard
Step 2: Connect your Zoho Books account
Step 3: Import Business & Recipient details directly from Zoho Books
Step 4: Generate, Review and transmit the form(s) to the IRS
Step 5: Distribute Recipient Copies (Postal Mail / E-delivery)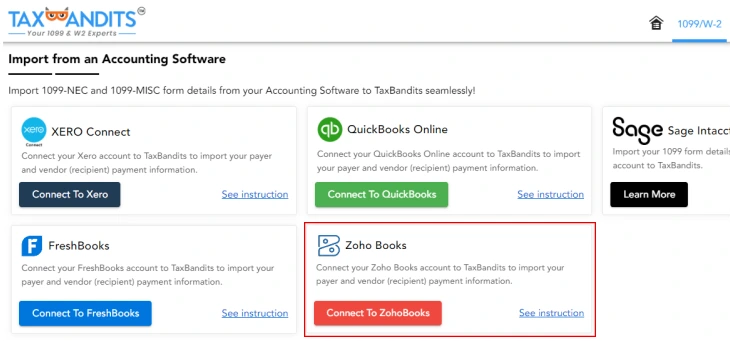 ---
Frequently Asked Questions on 1099 Zoho Books Integration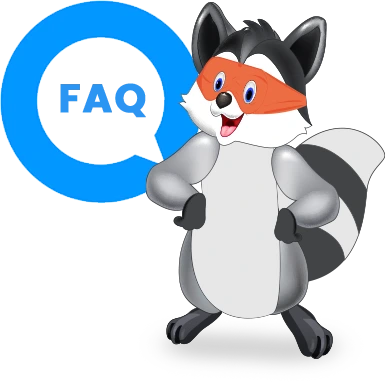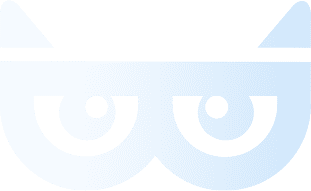 More 1099 Integrations from TaxBandits
Streamlined 1099-NEC/1099-MISC E-filing with Leading Accounting Software
Import 1099-NEC/MISC Information from Zoho Books in Minutes for a
Smoother E-filing Process