File 990 Extension Form 8868 Online Now
Receive 6 additional months of time to e-file your tax returns
Features
IRS Authorized E-File Provider
File in less than 2 minutes
No Explanation Required
Instant Approval
U.S Based Support
IRS Form 8868 Overview
Form 8868 is used by charities, nonprofit groups, and other tax exempt organizations to receive an automatic filing extension of 6 months to file their return. Users that file a Form 8868 must do so by the original filing deadline of their appropriate form. File Form 8868 Now
Use Form 8868 to apply
extension for:
Form 990/990-EZ
Form 990-BL
Form 4720 (Individual)
Form 990-PF
Form 990-T (section 401(a) or 408(a) Trust
Form 990-T (Trust other than listed above)
Form 990-T (Corporation)
Form 4720 (other than Individual)
Form 1041-A
Form 5227
Form 6069
Form 8870
Note: Extensions are not available for
Form 990-N
Extend Your 990 Deadline Now
990 Extension Form 8868 Due Dates
Calendar Tax Year Filing
Organizations that operate from January 1 to December 31 should file their Form 990 Series return by November 15 if they filed for an extension.
Start E-Filing Now
How to File Form 8868 Online?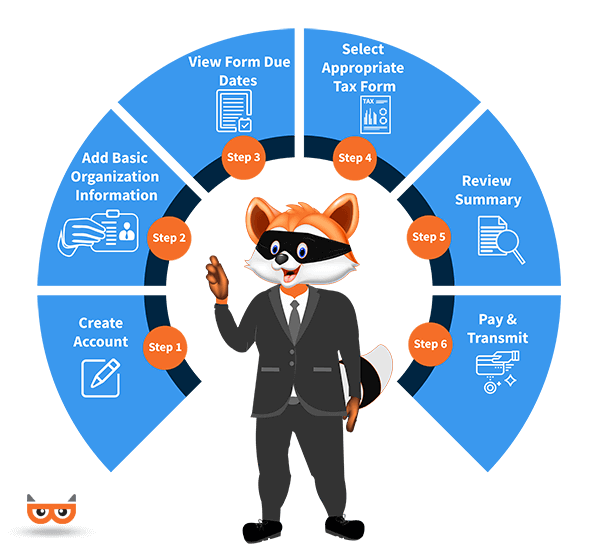 Just follow these simple steps and apply tax extension in Minutes.
Create or sign in to your TaxBandits account
Enter basic organization information
Select appropriate tax form
Review summary
Pay and transmit to the IRS
E-File 990 Extension Form 8868 in Minutes with our Software. Pay only when you are ready to transmit your return to the IRS.
Apply Tax Extension Now
Penalties for not filing Tax Extension Form 8868
Failing to file tax extension Form 8868 for your Nonprofit organization within the stipulated time will result in daily penalties. The penalties would depend upon the financial activities of your organization.
Avoid Penalties by Filing Form 8868 Ontime.
Customer Reviews
VERY GOOD AND EASY TO NAVIGATE, FORM 8868.
- Gladys K


It was really easy to fill out our 990 extension form 8868 and I had IRS approval in under an hour. Really easy.
- Christine H

Best e-filing system I have used so far! Thanks again for the support, it really helped me get back to other important items on my nonprofits agenda.
- Tanya M

I didn't have to use customer support since the filing process was very easy. Excellent company for e-filing IRS forms.
- Danny O

Love this website for ease of use! Also called with a question. Lauren was very helpful. Thank you.
- Carolyn L

fast and Efficient and saved me a lot of time and headache. THANK YOU
- Katherine E

Great service. Very easy to use. Thanks for making it that way.
- Tom B

It was so easy that I did it on the first try. Did not need video/customer support/any other help.
- Edward B

People also visited:
Success

Starts with TaxBandits
The Smart Business Owners Choice
Access our resource center for more
information about tax relief due to
COVID-19. Visit Now