Why TaxBandits is the Tax Partner for you
Save time, boost revenue, & grow your practice with a tax partner you can trust
TaxBandits provides a unique tax e-filing solution for all tax pros. From bookkeepers to accountants, whether you have 10 clients or 10,000 clients, we've got you covered. With our innovative features that cater directly to tax pros, you can rest assured you are choosing the most efficient tax software to fit your needs.
Comprehensive Software
Take your practice to the next level with TaxBandits, the most comprehensive software for tax pros like you.
Workflow Management
All Your Clients Under One Roof
Take the hassle out of juggling multiple clients. From your TaxBandits account, you can add multiple clients and businesses under one, single account. Your account will keep your clients organized giving you peace of mind that everything you need to run your practice efficiently is right under one roof.
Save Time; Yours and Your Clients
Don't wait for the postal service to deliver time-sensitive documents that you need your clients to sign. Save client documents securely in your account and easily send them any documents that need to be reviewed by a client, or e-signed.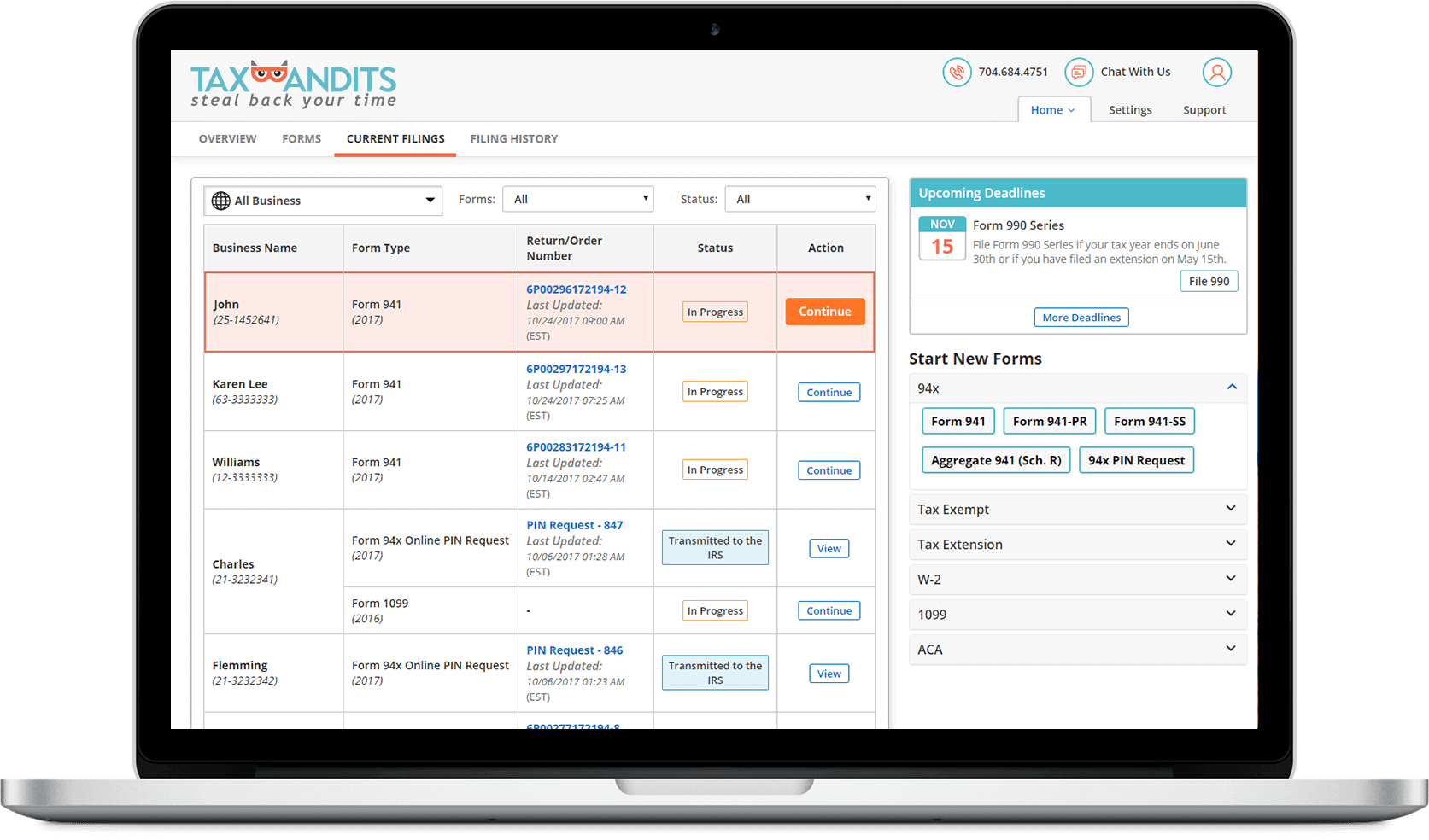 Data Management
Automate the Way You E-file Taxes For Your Clients
Upload information for multiple clients all at once with Bulk Upload. Or, you can manually upload information from an API, PDF, and various other sources.
Transmit Error Free Returns the First Time
Let us help you avoid rejection. Prior to submitting any returns to the IRS, TaxBandits will perform an internal audit to ensure you are transmitting an error-free return to the IRS.
Easy to Navigate Dashboard
Stay in Control of Your Practice
From the simplified TaxBandits dashboard, you can view and track any activity happening within your account.
Generate Accurate Reports
Stay on top of your practice with comprehensive reports that you can generate, download, and print straight from your TaxBandits account. With our online reporting system, you can keep track of the success of your practice and the success of your clients.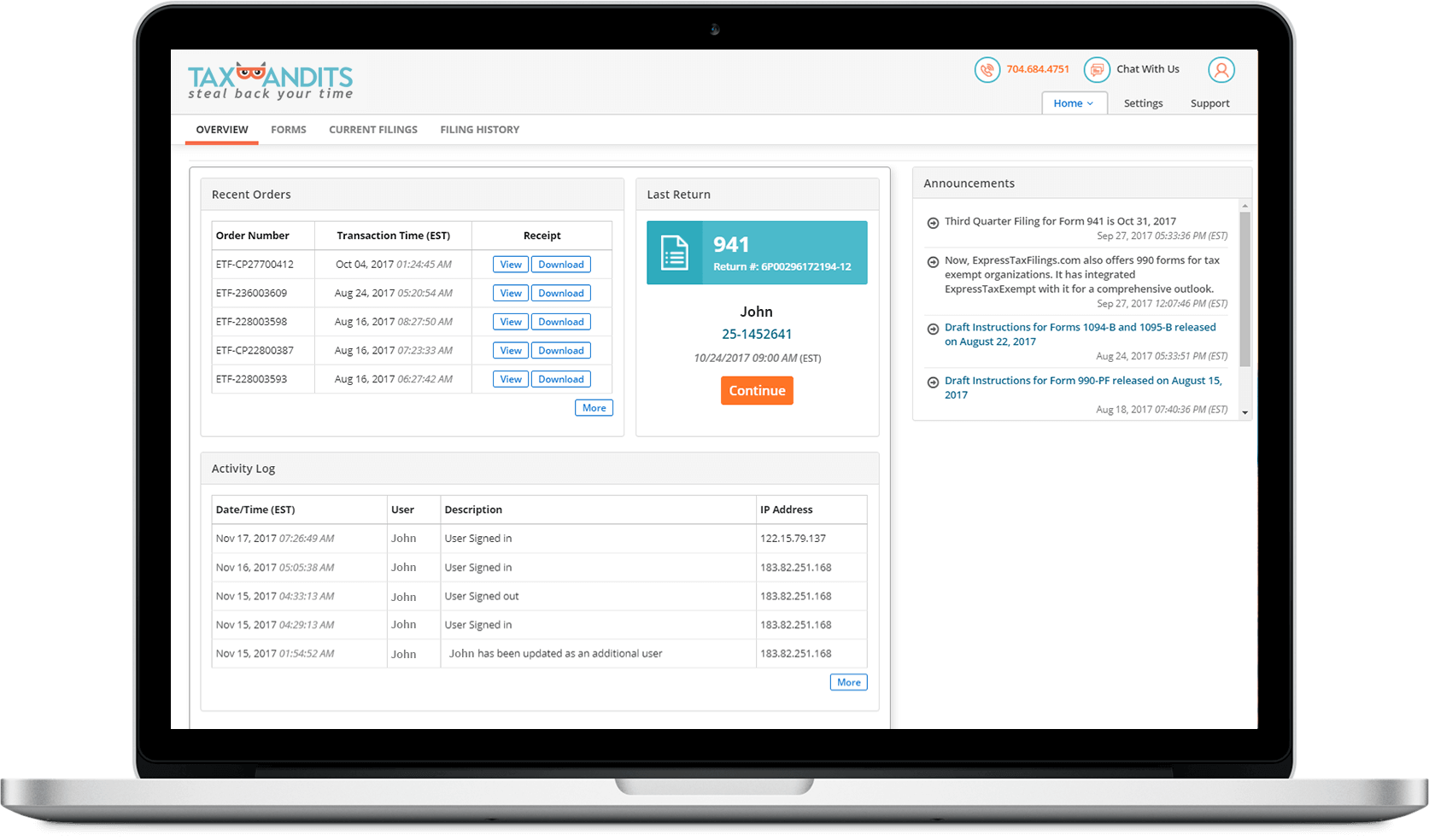 Flexible Pricing Based on Your Needs
TaxBandits offers flexible pricing to accommodate the needs of your client base and practice. Initially, pricing will be based on the size of your client base and the tools you will need to get your forms filed.
Stay Compliant
Let TaxBandits help keep your clients and your practice compliant with the IRS
The different ways through which compliance of every economic transaction is achieved through TaxBandits is listed below:
IRS Reporting
Meet the IRS Reporting requirements through our comprehensive e-filing solution for 94x, W-2, 1099 and 1095 forms. As a trusted tax filing partner, we provide you with streamlined tax e-filing tools to help keep your clients compliant with the IRS year-round.
Additional Forms Supported for Tax Pros
TaxBandits is the tax filing solution that works for tax pros like you which means we have all the necessary forms you need to keep your business moving in the right direction. Tax preparers can send Form 8453-EMP to clients and once it is received back, you can conveniently e-sign this form right from your computer.
Updated tax laws
Staying on top of the updates to tax laws can be a hassle. Our hassle-free software will automatically update IRS tax laws such as changes in tax rate from inside your account. You can rest assured that the forms you are filing for your clients are up-to-date and accurate.
Automatic Tax Year Changes
TaxBandits likes to stay ahead of the game. This means that our intuitive software is built to accommodate all the changes that the IRS expects in a tax year. Our comprehensive software will automatically update these changes to be reflected in your account and while preparing forms for your clients.
Meet State Filing Requirements
For many states, it is required that you file 1099 and W-2 forms with your respective state. For your 1099 forms, states under the Combined Federal/State Filing programs of the IRS are supported as well as Form W-2 in states where this form is required for annual reconciliation or transmittal.
Comprehensive Record Keeping
Be confident that the important documents of your practices and of your clients are being kept in a safe place. TaxBandits has a thorough record keeping system that allows you to keep all transmitted and accepted tax forms organization and archived. Should you ever need to access any of these forms, you can do so anytime from your TaxBandits account.
TaxBandits Supported Forms
New Hire Report
State withholding
Online 94x PIN Request
UI Forms
New Hire Report
State withholding
Online 94x PIN Request
Real People Ready to Help You Every Step of The Way
This simplified tax reporting platform will allow you to work efficiently to grow your practice faster than ever. Should you ever need any help with your account, you can conveniently contact your dedicated account representative by phone, email, or live chat.
Change the way you e-file for your clients
Create your free Tax Pro account today
Access our resource center for more
information about tax relief due to
COVID-19. Visit Now