Form W-3c, Transmittal of Corrected Wages & Tax Statements
Auto-Generate Form W-3c by filing W-2c with our Software
Correct Your W2 Forms Now!
What is Form W3c?
The Form W-3c is the transmittal copy of the corrected tax and income statements. In most situations, the W-3c will accompany the W-2c, especially when it is delivered to the SSA and even when the total information from the W-2c forms are being submitted.
Individuals who are paper filing W-2c Forms need to file W-3c for transmitting the Copy A of the Form W-2c. Now even if there is only a single paper W-2c form that is filed, the W-3c is still needed. In addition, you don't need to file the W-3c Form for the W-2c Forms which were submitted electronically
to the SSA.
Form W3c will gets auto-generated while you correct your W2 forms with our e-filing software. Correct Your W2 Forms Now!
Deadline of W-3c Form
Form W-3c needs to be submitted as soon as possible with Form W-2c after an error is discovered. The deadline is as follows:

Paper Filing Deadline
January 31, 2022
Information required to file Form W-3c
Form W-3c, as the transmittal copy for Form W-2c, requires the following information to be filed with the SSA:
Corrected employer details (Name, EIN, address, employee code, employer type)
Corrected federal wage and tax amounts
Corrected state wage and tax amounts
Total number of accompanying W-2c Forms
If you correct the above information on W2c forms with our e-filing software, we will generate the Form W3c automatically! Correct Your W2 Forms Now!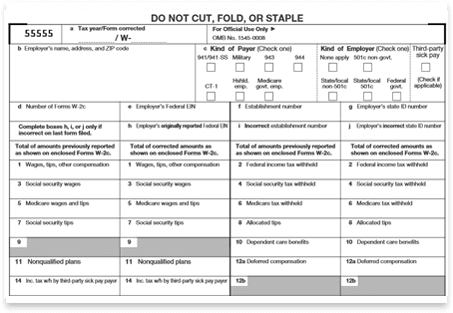 Where Do I File W-3c Form
If you are e-filing Form W-2c, then you don't need to file Form W-3c, as it is automatically generated. As per the SSA, it is better if you e-file W-2c Forms as it is more efficient and faster. Now the most efficient method to e-file the W-2c Forms is using the TaxBandits, as it is one of the IRS-authorized e-filing service providers.
People also visited: