Bulk Upload - Import Multiple Payers, Recipients & Forms
Bulk Upload for Payer/Employer
E-filing 1099 tax forms for multiple payers/employers can be tedious unless you take advantage of TaxBandits' Bulk Upload features through an Excel/CSV Template. Fill in the details in the template for each of the Payer/Employer and upload it to our software. The filled-in information for each of the Payer/Employer can be previewed and imported to our software.
Step 1: Download the Excel/CSV Template [Template Model]
Step 2: Add Payer/Employer Details to the template. But do not change the column headers or the format
Step 3: Upload the filled template to our software
Step 4: Preview Payer/Employer details and import data to our software.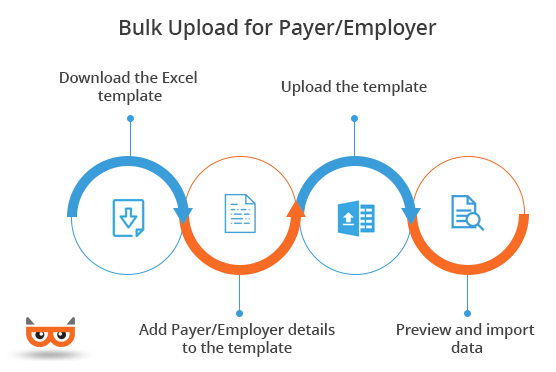 Bulk Upload for Recipients and Forms
If you have a large amount of Recipients and Forms, you can Bulk Upload your recipient details all at once. You can download our TaxBandits Excel/CSV template available for the purpose, fill-in with recipients and form details (by retaining the column headings of the template) and upload in our software. Alternatively, the details of recipients and form details can be uploaded through your own excel template. The uploaded recipients and corresponding form details can be mapped for the required fields in the 1099 Form and previewed. After preview, import data to our software. The 1099 Form generated can be reviewed before transmitting to the IRS.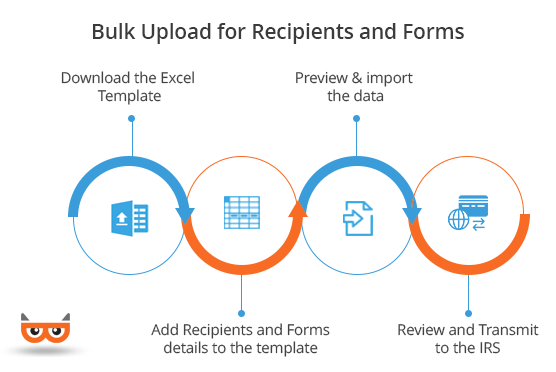 Step 1: Select the type of template file from TaxBandits
Step 2: Download the Excel Template [Template Model]

Add Recipient Details to the template. Do not change the headers or the format.
Upload the template file
Map the excel columns to the form fields
Preview and import the data
Review and Transmit to the IRS