How to E-file Form 990-EZ Online for 2022 Tax Year with ExpressTaxExempt?
Are you ready to file your 990-EZ Form?
Get Started with ExpressTaxExempt & file your form securely and accurately.
Nonprofits & tax-exempt organizations trust ExpressTaxExempt
for these Amazing Features

Form Preparation
To make the preparation smoother and quicker, we provide two different filing options Direct Form Entry and Interview Style filing option for you to choose.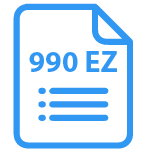 990-EZ Schedules
Our software supports all the Schedules of Form 990-EZ. The applicable ones will be generated automatically based on the information you enter on your form.
Internal Audit Check
By reviewing your form for IRS errors before transmitting it to the IRS, our internal audit check makes sure that your returns are accurate and error-free.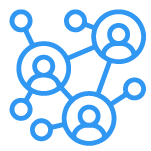 Multi-User Access
You can add more users to assist you in form preparation. Also, you can share the form with Organization's Governing Body for reviewal and approval.
Form 990-EZ Schedules
Based on the activities of your organization, you might be required to file additional information along with Form 990-EZ. We do this for you by adding appropriate schedules with IRS Form 990-EZ to complete your annual filing requirements. Learn More
With ExpressTaxExempt, the appropriate schedules for your organization get generated automatically based on the information you enter
on Form 990-EZ.
Form 990-EZ Amended Returns
To correct Form 990-EZ return filed previously with ExpressTaxExempt, you can do it easily through our amending process. We will pull up the previously filed information for you. You only need to add the correct information and transmit it to the IRS. Learn More
Note: To e-file an amended Form 990-EZ, your original return has to be e-filed with ExpressTaxExempt.
Success

Starts with TaxBandits
The Smart Choice of Nonprofits
The step-by-step process made filing my 990 Form easy. The entire process was guided so I didn't have to worry about missing anything.
- Susan S


I recently started my charity and was slightly nervous having to file my 990. But it was so simple! And the chat support was amazing for any questions I had.
- James B

Best e-filing system I have used so far! Thanks again for the support, it really helped me get back to other important items on my nonprofits agenda.
- Tanya M

Awesome customer service and a great company.
- Bryan J

Keep up the good work! The e-filing process is much easier than other sites.
- Joanna M

Starting a new nonprofit can be very overwhelming. I really can't give TaxBandits enough praise. They are very professional, understanding, and willing to help you get things right the first time.
- Danny O

It was easy to fill out the 990 Extension Form 8868 and I received approval from the IRS in under an hour. Very simple processing!
- Christine H

First time using TaxBandits and I was highly impressed. I will definitely continue using you for future 990 filings. Thank you.
- Jeff B

I spent hours on another site struggling to understand the instructions or customer service reps. Thankfully I found you and I submitted my form in just a few minutes! Thank you!!
- Deborah M

By far the easiest and quickest 990 service I have used. Year after year TaxBandits is my go-to for 990s and all my information is saved so the next year's filing is simple.
- Vi C

Great Service and very easy to use!
- Tom B

Been using TaxBandits for 2 years now and so far no problems. They provide great support for any questions you may have.
- Paul B

Excellent service from Lauren! Very courteous and professional. I always recommend them for filing 990s.
- Carolyn L

The site was very easy to navigate and filing my 990-N was super simple.
- Edward B

Easy to use! So simple, I didn't need to use support this time!
- Joyce M

The quickest and easiest way to file 990s with phenomenal customer support! You're able to speak to someone right here in the US right away.
- Richard G

Christina provided great phone support for both 990s that I prepared.
- Heather P

Frequently Asked Questions on
Form 990-EZ
What is Form 990-EZ
(Short Form)?
Form 990-EZ serves as the short form return of organizations exempt from income tax (small tax-exempt organizations, nonexempt charitable trusts, and section 527 political organizations). These organizations must have gross receipts less than $200,000 and total assets less than $500,000.
Learn More about Form 990-EZ
Check the Form 990-EZ instructions to file accurately and securely.
When is the due date to file
Form 990-EZ?
For nonprofits and tax-exempt organizations operating annually from January 1 to December 31 (12 consecutive months), the actual deadline to file Form 990-EZ is May 15.
If your nonprofit and tax-exempt organization operates on a schedule of 12 consecutive months but ends on the last day of any month except December, your organization would file on the 15th day of the 5th month after the end of the organization's tax period. Find your 990-EZ Due Date
Note: Tax filing deadlines that fall on a weekend or national holiday will be due on the following
business day.
Get Started Now to avoid late filing 990-EZ penalties.
What are the Penalties for not filing Form 990-EZ on time?
Failing to file your nonprofit and tax-exempt organization's Form 990-EZ within the stipulated time will result in daily penalties. The penalties would depend upon the financial capacity of your organization. The penalties can be waived off if the IRS accepts reasonable cause provided for the delay. Your organization can be subject to legal proceedings for late filing. Learn More about Form 990-EZ Penalties
What is Form 990-T?
If a tax-exempt organization generates an unrelated business income of $1000 or more, they should file Form 990-T and report that information on Part V, line 35a and B of Form 990-EZ.
Not just 990 forms, we also support the e-filing of supporting forms such as Form 990-T.
What is Automatic Revocation?
If your organization has failed to file 990-EZ for three consecutive years, its tax-exempt status will be automatically revoked. You can reinstate the exempt status by filing afresh for tax-exempt status. And also, file the failed returns by providing reasonable cause for the failure within the stipulated time. Learn More
How can I apply extension for filing Form 990-EZ?
Nonprofits and tax-exempt organizations can request additional time to file Form 990-EZ.
File Form 8868 by the original filing deadline of your organization to instantly get an automatic 6-month extension on the filing of Form 990-EZ with the IRS.
Success

Starts with TaxBandits
The Choice of the Tax Exempt Organizations