We are currently accepting W-2, 1099, 940, 941, 944 & 1095 returns for the 2018 tax year!
Start Filing Now
Tax Filing Software Designed With You In Mind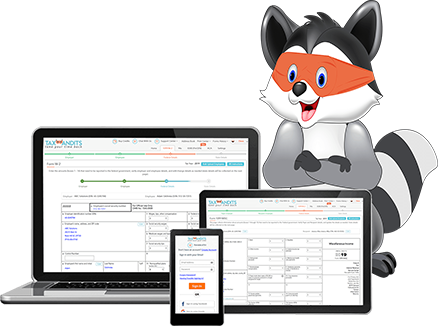 TaxBandits was designed with you in mind - the small business owner managing their own finances, or the accountant growing his practice and managing multiple clients. TaxBandits offers the most simplified and streamlined, interview-style e-filing process that helps to keep your business moving in the right direction. Get started today and see why TaxBandits is the ultimate e-filing solution for small businesses, nonprofit organizations, and tax professionals.
Custom Built APIs
Does your HCM, payroll, or accounting software need a custom IRS-authorized e-filing API integration?
API Features Your Business Needs
Bulk E-file IRS Tax Forms: 941, 941 SCH-R, 1099 MISC, W-2, & 94x Online Signature PIN
Secure API Processing
Flexible Pricing
Personal US-based Support
Bulk e-file for your tax forms - 941, 941 SCH-R, 1099 MISC, W-2, & 94x Online Signature PIN.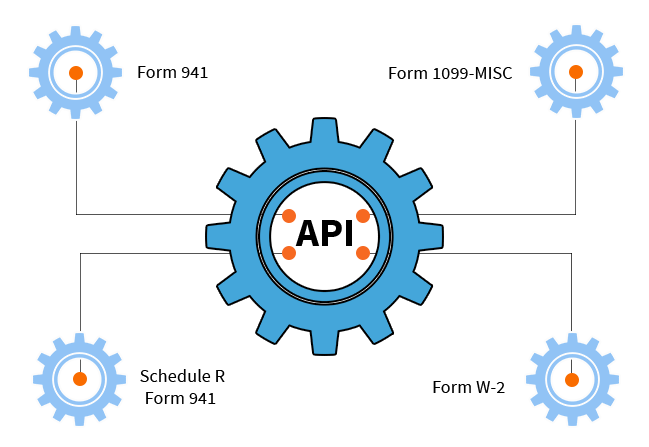 See How a Custom Built
API Can Benefit Your Business
TaxBandits is an IRS-authorized Tax Filing Software You Can Trust
W-2 Forms
Annual Statement sent by employers to both employees and the SSA. The statement includes gross wages, social security wages, federal and state income tax withholdings and tax benefits.
Learn More
Form 1099 Series
Series of information returns reporting income from self-employment, interest, and dividends, or independent contractors to the IRS. The various 1099 forms correspond to numerous types of income being reported.
Learn More
Change The Way Your Business Files Taxes
Get started with TaxBandits today
Form 94x Series
Form 94x series is a comprehensive set of forms which are used to report employers' various federal withholding and deposits to the IRS.


Learn More
Get Started Today with
TaxBandits
Online Tax Filing Software You Can Trust
ACA Forms
Insurance Company and Large Employer transmits coverage information to the IRS, provides information to insured individuals/covered employees and covered dependents.


Learn More
Customer Testimonials
I tried one of your competitors website before I found this one. I was so confused attempting to fill out your competitors forms, their video itself was almost 10 minutes. Your site was easy to follow. Thank you.
- Joe Bafford
Wildwood Church of God of Prophecy


Work flow makes sense, navigation is easy, customer service is excellent with prompt call backs and thoughtful support.
- Jerry Morris
Cherokee Farms of Missouri, LLC

It's such a streamlined process. Easy to navigate and saves me a ton of time vice filling out by hand.
- Chris Olsen
Falcon Property Group

Found it user friendly and easy to transition from one page to another. Instructions were understandable.
- Charles Wright
Family Matters Communtiy Program Inc

User Friendly - Easy to follow Instructions - Easy to use template that actually works!
- Lieanna Pick
Johnson Industries International, Inc

Intuitive. Thank you. SSA has no customer support and you have been wonderful with support.
- Genevieve
Celtic American Trawls, Chandlery & Hardware, Inc.

First time user, easy navigation, user friendly, understandable, rare to find a service to file 1099 corrections online. I will use you again
- Pam Pruitt
Indigo Beam, LLC

Very easy navigation going forward and backwards. I usually have trouble online with confusing instructions. Yours is very easy.
- Jay Polonsky
One Summer Street Condominium Trust

Its clean simplicity and reasonable pricing, also the fact that you let users buy just one W-2 form and not a minimum of 10 as others do.
- Alfred B

Form 990-N (e-Postcard)
Small tax exempt organizations (with annual gross receipts of $50,000 or less) file Form 990-N (e-Postcard) annually with the IRS.
Learn More
Form 990 Series
Tax Exempt Organizations, Non Exempt Charitable Trusts, and section 527 Political Organizations file Form 990/990-EZ directly with the IRS.
Learn More
Online Tax Filing Designed With You in Mind
E-filing Software For Small Businesses, Nonprofits, and Tax Professionals
Tax Extensions
Individuals, Businesses, and Nonprofit Organizations file appropriate extension forms to extend the deadline for submitting information returns to the IRS (but not the allotted time for taxes owed).


Learn More
We'd love to hear from you
Contact us today to learn more about TaxBandits